If you know you should do something about marketing, but are tired of reading conflicting advice from the "experts" and don't have a lot of time or money, I'll let you in on a little secret: YOU are the best marketing consultant that your business can have.
The 5 Question Marketing Plan will lead you through a few key questions that will unlock the strategies that are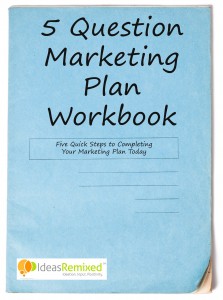 unique to your business and help you answer questions like
How do I get a website that looks great without getting ripped off or spending hours myself?
How much time do I really need to spend on social media?
Is print advertising worth it?
How do I get new customers?
How can I come up with creative ideas that will blow my competition out of the water?
I've spent more than 15 years working with nonprofits, small businesses, and entrepreneurs in marketing, public relations, sales, management, social media, and blogging. I've noticed that these key questions are applicable across sectors and industries, and I would love to share them with you.
Download now, before you spend another dime or minute on marketing strategies that don't work for your business.