Over the years, as I have worked with many different personality types, I have realized the value of recognizing how to identify and work with people using principles that I have learned through profiles such as DISC, Discover Your Strengths, and the like. So I was excited to review Taking Flight!: Master the DISC Styles to Transform Your Career, Your Relationships…Your Life
.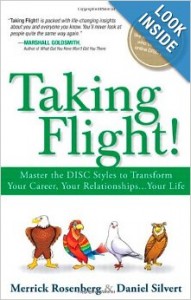 Part I: Taking Flight! The Fable
  is a sort of hokey parable about forest animals. Part of me was like, "get on with it already!" But it does illustrate really well how different personality styles approach problems and work together.
Part II: The DISC Model is an introduction to the four styles and the 12 DISC principles. I'm familiar with the DISC styles, so there wasn't anything really new here, but it was a nice review of what the styles are and how to use the styles to get along better with others. It is also a good introduction if you don't have any prior knowledge of the DISC styles.
Part III: Applying the DISC Styles in Your Life gives a nice, concise description and some practical examples. It also gives you the web address where you can take a very simplified version of the DISC test. The book finishes with some worksheets and tips for making use of the styles in you own life. I like that this section is short, sweet and to the point. Much different than the parable section! Chapters in this part include:
Steps for reaching your highest potential
DISC for selecting an educational and career path
DISC in the work environment
Tapping the power of style in themes
DISC for teaching and coaching
Educating with DISC
Better parenting with DISC
DISC action planning
DISC mapping
Overall, this is a great book for taking the DISC information and answering the question, "That's nice, now what?" I recommend it for small business owners who want to learn how to better relate to their staff, anyone who works in a corporate environment, and coaches/facilitators.
Do you use DISC or other personality profiles? In what way have you found them to be helpful? (Or not)
Reader Interactions