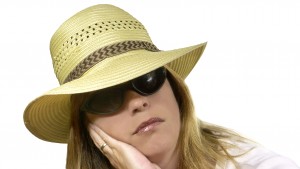 One thing I've noticed with clients and with myself is that it's easier to do marketing for other people. I've been told that one of my gifts is being able to look at others, find their "sparkle," and make it shine for all the world to see. Maybe it's because when we are marketing ourselves, we are too close to the topic. It's difficult to pull out the important aspects because everything seems important to us! Focusing is difficult. To combat this dilemma, it can help to talk things over with another entrepreneur or even a close friend. If you can explain it to someone who is not involved in it up close and personally, they can help you pick out the main topics.
Another reason I think it might be difficult to market ourselves is because it is hard to "toot your own horn," so to speak. It's uncomfortable to say, "Hey, I'm awesome at what I do and you need to hire me or buy from me." It's easy to look around and find other people who are better, more networked, are more successful. It's important to remind yourself that you are a unique individual, and what you offer is unique, even if it's in the same niche as someone else. I learned this lesson at a recent networking event. It was a leads group, and I was hoping to network to find people who might be interested in my website services. I specialize in setting up WordPress sites for small businesses. Basic, affordable, but effective and well done. During the introductions, another consultant was there who gave his elevator speech right before me. He had done work for celebrities and had a very hard sell presentation. I remember thinking, "I have to follow that?" I resisted the urge to turn into the stereotypical used car salesman. I smiled and confidently talked about what I have to offer, and talked about how I enjoy getting to know my clients and helping them develop affordable websites that meet their needs and to develop a social media presence even if they have no idea what social media even is.
As I suspected, the other consultant dominated the conversation for the rest of the session. Somehow everything came back around to him and his whiz-bang websites. When it was time to leave, I packed up my things and got ready for the business-card swap. I was thinking in my mind, "Well, that was a bust." To my surprise, one of the attendees asked me if she heard correctly that I do websites. "Yes, I do. But probably not as fancy as the other guy's" I said. I don't know why that popped out of my mouth! "I would love to meet with you to talk about doing a website for me," she said. We have since become friends, and while she is not ready for a website yet, she has given me a greater gift than her business: The realization that by being myself, and honestly talking about what I can offer, people WILL be interested in working with me.
By working on confidence and focusing my efforts, I have made a lot of progress in marketing myself. I have also found that encouraging my clients to do the same has helped them, too. There is still a lot of work to be done (the story of the entrepreneur's life . . . ) but we are getting there!
What tips can you share about how to overcome difficulties in marketing yourself?