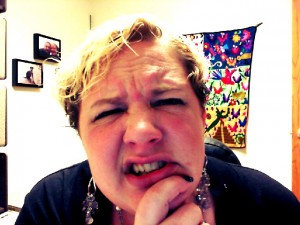 Nonprofit and religious organizations are notorious for jargon. When I started at my current job, I was handed several books and a six page document of acronyms!
Over the years I have started to become immune to it. Until someone new starts; then I find my antennae up listening for jargon and acronyms so I can fill them in, sparing them the embarrassment of constantly raising their hand and asking for explanations. Even then, some slip by.
Even worse is when it starts to invade marketing materials. It's hard to remember that the average person just becoming aware of your organization needs things explained in simple terms.
Even worse than having jargon in printed materials is having a lot of jargon repeated several times on a website. I realize that the writer is probably just trying to maximize SEO, but come on people–there has to be a balance between search engine optimization and readability.
An SEO copywriter walks into a bar, grill, pub, public house, Irish, bartender, drinks, beer, wine, liquor…

~ popular Twitter joke
I was trained in journalism before moving over to writing marketing/PR copy, and I was lucky enough to work for a great startup ad agency. They told me to "write like ya talk." I think that's great advice.
Other tips to avoid jargon:
Have interns or new employees review copy (this one is my favorite)
Read copy aloud, imagining yourself speaking in front of an audience that doesn't know your organization.
Don't let too many people wordsmith the same thing. (See video below)
Bottom line? Don't let jargon get in the way of true communication.
How do you avoid using jargon?